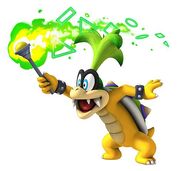 Iggy Koopa Is one of Morton's 7
children, he was in the middle, but now none are in the middle with Wendy around. Iggy is kind of the evil scientist kind of person, but his personality is very strange. He's definitely pretty smart.
Relatives
Edit
Igser Koopa Jr.
Edit
Igser Jr. is Iggy's grandfather and Iggy was named after him. The reason he is named after him is because they have the same type of hairstyle and they were both very smart. Another reason he was named after him is because Igser Jr. died when Morton Sr. was a kid so he wanted something that would remind him of his father.
Mario and Luigi Superstar Saga
Edit
Iggy has not appeared yet, but his first appearance will be in Bowser's castle.

Ad blocker interference detected!
Wikia is a free-to-use site that makes money from advertising. We have a modified experience for viewers using ad blockers

Wikia is not accessible if you've made further modifications. Remove the custom ad blocker rule(s) and the page will load as expected.