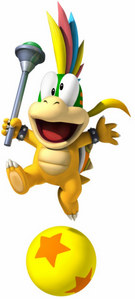 Lemmy, or as Roy calls him, Beating toy is one of Morton's 7 children, he's the youngest.
Realitives
Edit
Mario and Luigi Superstar Saga
Edit
Lemmy will apear during the Bowser castle part of the story, using
Ridge Troopa's
Lemmy animation
Ad blocker interference detected!
Wikia is a free-to-use site that makes money from advertising. We have a modified experience for viewers using ad blockers

Wikia is not accessible if you've made further modifications. Remove the custom ad blocker rule(s) and the page will load as expected.